Most welcome to the group exhibition The Promise June 3rd – September 3rd 2017 at Index – The Swedish Contemporary Art Foundation. Malin Pettersson Öberg will be participating with a new film, shot inside the model archive and workshop of the Urban Planning Department in Stockholm. The exhibition will open on Friday June 2nd, 17:30 -20:00. More information about programme / events will appear.
–
THE PROMISE
3 June–3 September 2017
Opening: 2 June 2017, 17:30–20:00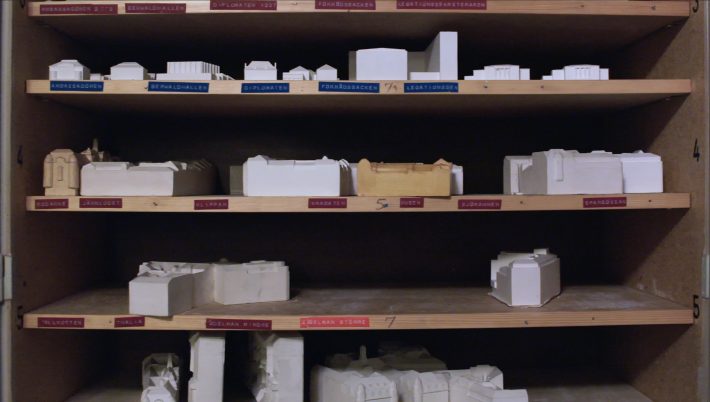 The Promise is an interdisciplinary exhibition and events series which explores the city as a social space, and the role of architecture and design in shaping a context for our lives. With more people than ever living and working in cities, and still growing importance as commercial and political centers, the future development or cities is one of the most important issues of our times. Engaging with the concrete city of Stockholm, the project will consist of a series of new commissions and an exhibition in the gallery spaces of Index. Participating artists include Kate Newby, Malin Pettersson Öberg, Fredrik Vaerslev, Peter Wächtler, and others.
Questions the project deals with are: How do a city's inhabitants live together, and how does the city's design – its architecture, urban design, landscape, and infrastructure – impact on the conditions of living? Since the early modernist movement, design has often been considered to have a critical social function. Revolving around a minimum standard of living and equal access to space, air, light, and water, modernist planning was a promise for a better society for all. On the other hand, planning can only create frameworks for living, and the power of design to shape a new reality has been overestimated, neglecting the many and diverse relationships between people and their environment, and creating in many instances a feeling of failure.
Late-modern planning from the second half of the 20th century, in Sweden especially the impressive – but ambivalent – million program, the failures of traffic-centered planning in Stockholm or the modernist vision of Sergels Torg, marks a paradoxical moment in which design principles with ambitious social ideas created formal solutions which were felt by many to be thoroughly anti-social or even inhuman. The project will use these moments of disjuncture between social ambition and contemporary reality as a starting point to explore the potential futures of cities, and the role of architecture, design and the arts within these potentials.
Social media: @indexstockholm #thepromise
With kind support from Creative New Zealand, Goethe Institute Sweden, Barbro Osher Pro Suecia Foundation, Jan Warburton Charitable Trust, and in collaboration with Royal Institute of Art (RIA) and Italian Cultural Institute in Stockholm.