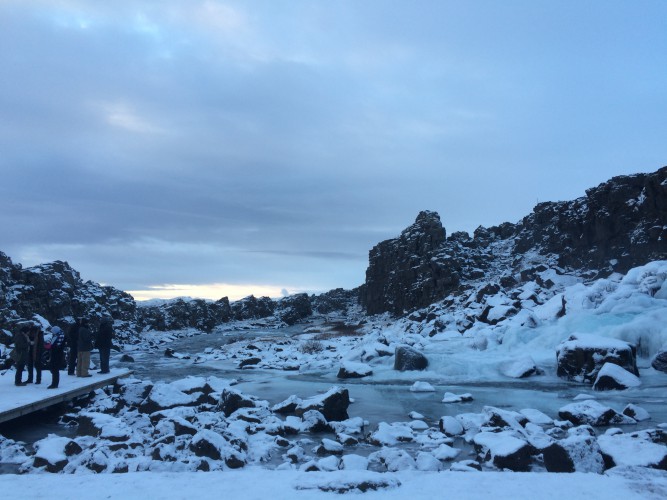 Ann Guillaume (FR) and Malin Pettersson Öberg (SE) participated in a one month residency at SíM in Reykjavík, in January 2017. As visual artists, we are engaged in research-based and interrogative practices, informed by scientific and socio-anthropological fields associated with memory and history writing. The following theme and questions are those that we, through a series of case-studies and encounters, have interrogated in Iceland – the main focus being the processes and methods involved in knowledge production and mediation, how we relate to, and communicate with, one another.
"We would like to discuss, to engage in conversations, with people from various professional fields; scientific, artistic, political; on the topic of methodology. Our focus will be the tools that allow us to register; to document and mediate, the unfolding of our work processes, in order to locate the moment when fiction enables us to produce or establish new and experimental formats for describing, understanding, and transforming the world around us. Fiction – the imaginary – as a transformative power, a "creator" of situations where new relationships to our surroundings become available; new forms of social interaction, of living together. Which methods are used and how are they valued or perceived? In which ways do methods of research, documentation, and validation, move between the fields (of f.ex. art and science) and how do they relate to the use of fiction, storytelling, and imagination? And what would all this imply in the specific territory of Iceland? Perhaps together, by attempting to reach across established borders and ideas about who we are and what we do within the various fields, we could invent new forms of sharing and mediating our ideas and experiences?"
As part of our project we invited professionals from various fields, that we had met and interviewed, to the following event.
–
POOL – A GOVERNMENT DURING THE TIME OF A BATH
Ann Guillaume & Malin Pettersson Öberg
Until recently, Iceland found itself without a government. The swimming pool or public bath has since Ancient Rome figured as an arena for social encounters and political discussion. As visual artists, we, Ann Guillaume (FR) and Malin Pettersson Öberg (SE), are engaged in research-based and cross-disciplinary practices. We like to meet and share methods and experiences with professionals from various fields and nationalities. During our residency at SÍM in Reykjavík, we would like to create a cross-disciplinary encounter with you – a temporary "government" lasting the time of a bath – in one of Reykjavík's famous swimming pools (Vesturbaejarlaug – http://reykjavik.is/stadir/vesturbaejarlaug).

In the pool, we would like to discuss the idea of the encounter. Of having to listen, translate, displace, relocate yourself, in order to meet and communicate with the other. (The other could here be anyone from a different discipline, nationality, language, etc. than your own.) In your profession, when, and how, does these acts of translation and relocation take place? We would also like to discuss – with the help of fiction and imagination – your ideal society. If you had the highest post available within your field – if you were minister of f.ex. culture, environment, education, etc. – what would be your top question or priority?

Time: Sunday 22 January at 10 am
We hope that you will be willing to participate!
Kind regards,
Ann & Malin
–
Malin Pettersson Öberg (1979) has previously participated in a residency at Skaftfell Center for Visual Art in Seydisfjördur, Iceland (2014), after which she produced the film Journal of Earth Sciences (2015) based on her experiences. The film is a travelogue approaching issues of belonging, solitude and cultural or geographical identity, ownership and representation. Between 2014 and 2016 she has been co-organising an artistic exchange between Sweden, Iceland and France, together with festival director Ari Allansson. As part of this exchange, a series of residencies and presentations have been organised, a.o. with Ann Guillaume in Stockholm in 2015. The project has been carried out with support from Iaspis – The Swedish Arts Grants Committee's International Programme for Visual Artists, Nordisk kulturfond, the Nordic Culture Point, Slakthusateljéerna and the Nordic Art Association (Stockholm), Skaftfell Center for Visual Art (Seydisfjordur) and Air d'islande / Pølar (Paris).
Ann Guillaume (1980), whose parents were both archaeologists, has been developing an artistic practise oriented towards archaeology and, more generally, those disciplines that seek to « write history ». Research and inquiry are Ann Guillaume's favoured modus operandi. The objects she borrows, collects or creates come to life as soon as they are shared. Each object or environment thus puts the beholder/actor into a space of dialogue where the circulation of knowledge is stimulated. For the last decade, Ann Guillaume has been prone to scrutinise the processes of creation of knowledge. Switching the places of the production of knowledge, she has come to work with archaeologists (at INRAP and SRA), anthropologists (at EHESS), technology historians (at CNAM Paris), applied science researchers (at INSA Rouen), designers (at ENSCI), web designers, and the Medialab in Sciences-Po. This comprehensive outlook has been nourishing Ann Guillaume's online laboratory, Never Ending Object, a multidisciplinary artwork, questioning the archive and its reactivation. http://www.never-ending-object.com
http://annguillaume.fr/